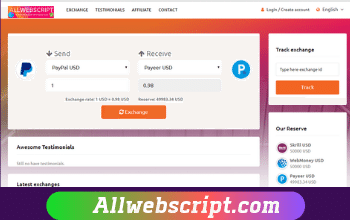 E-Currency Exchange Script | All Gateaway Supported | Best E-currency Exchange Script
Demo Details Of E-Currency Exchange Script.
if you want to test Digital E-Currency Exchange Script then use these following detils for login.
Admin Login Details :
Username : allwebscript
Password : demopw
—————————————-
User Login Details :
Password : demopw
User Panel
Admin Panel
E-Currency Exchange ??
E-currency (digital money or electronic currency) is a type of currency available in digital form (in contrast to physical, such as banknotes and coins). It exhibits properties similar to physical currencies, but can allow for instantaneous transactions and borderless transfer-of-ownership. If you are a exchanger & want to make your business auto or you have a big online business and you want to use it such as online. In this case e-currency exchange website/company is good for you. If you don't have have any big business and you want to do somwthing in online field then you can go for "PTC (Paid to click)" website. i will be helpfull for you.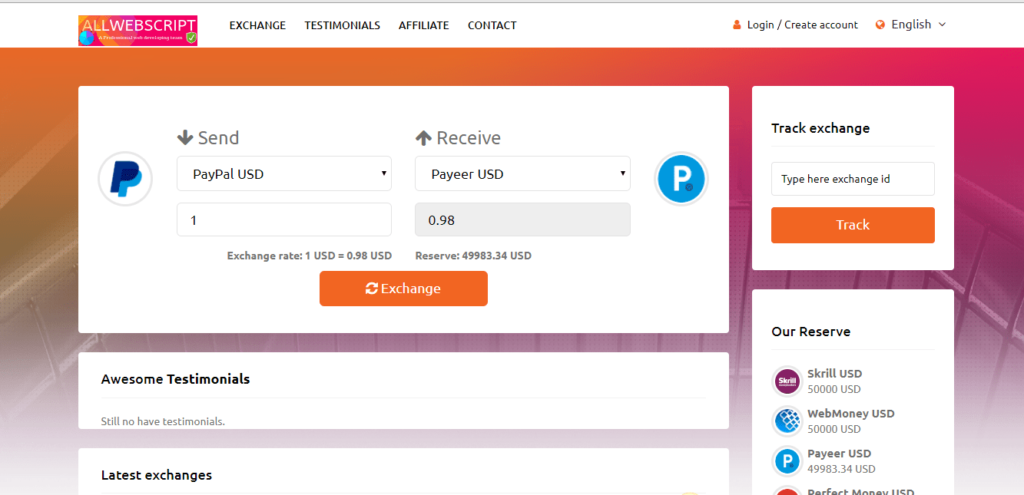 Send & Receive
1 :-  This saftware is very easy to manage, for complete understanding please watch preview video.
2 :-  You can select any method for exchange and send + receive.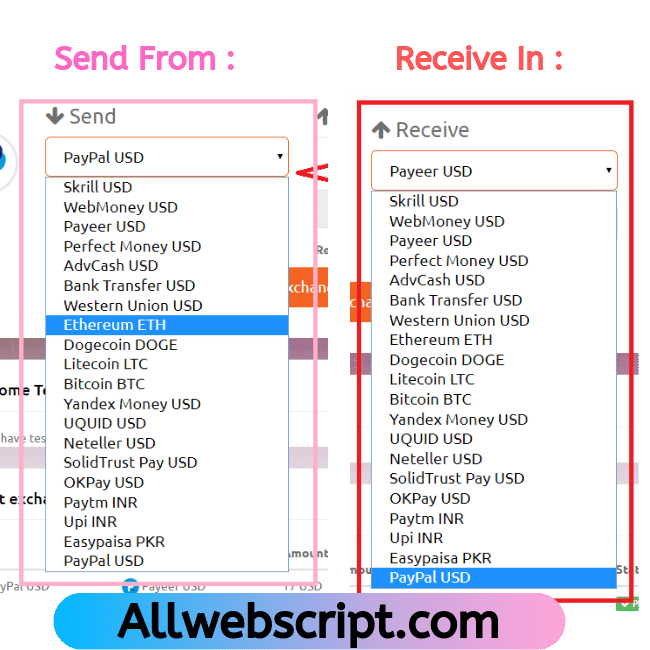 ———————————–
Auto & Manually Gateaway :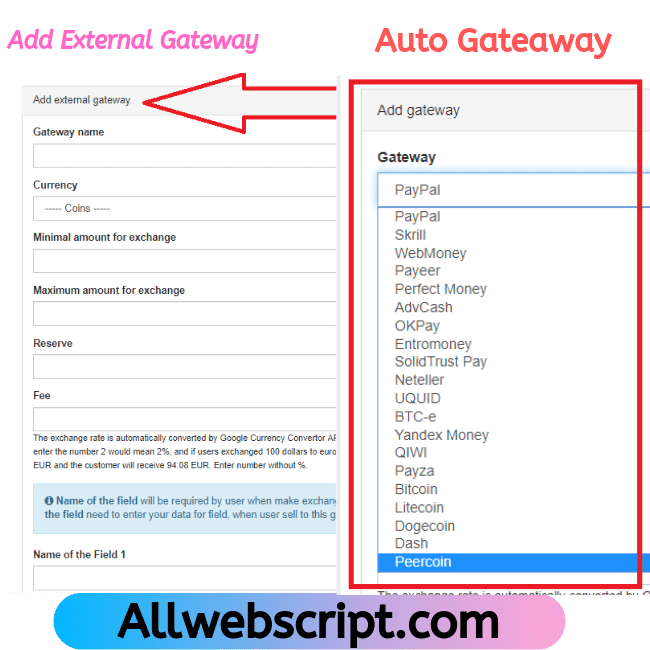 Client Features :
Currency Exchange Facility.

 Currency BUY Facility.

 Currency SELL Facility.

 Blog & Contact Facility.

 Infront Exchanger.

 Easy Signup & Signin.

 Sell Currency Activity.

 BUY Currency Activity.

 Exchange Currency Activity.

 16+ Deposit Method.

 Deposit History.

 Easy to Withdraw.

 Withdraw History.

 Total Transaction Report.

 Profile Management.

 Referance System.

 And much More.
Admin Features:
 Manage Currency.

 Buy Log.

 Sell Log.

 Exchange Log.

 Manage Bank.

 Manage User.

 Manage Deposit.

 Manage Withdraw.

 All Subscribers.

 Manage Blog.

 Website Control.

 Interface Control.

 Payment Gateway Managment.

 Withdraw Request.

 Withdraw Approved.

 Withdraw Refunded.

 Manage Social.

 Manage Service.

 Testimonials.

 Manage Faq.

 Manage Service.

 Email Setting.

 SMS Setting.

 Contact Setting.

 Interface Control.
Other Features :
Support 169 Currencies (Support more currencies than currencylayer.com: support 168)

Real Time JSON API

Real Time PHP API

Subcription Plans

User Account Panel

Fully Responsive

Easy to Personalize

Admin Control Panel

Some content credit to : Codecanyon