CronLab PTC v6 Latest Version | CronLab Official | Script for PTC, Hyip, Crypto Trade & Money Investment | AllWebScript
CronLab PTC (Official)?
CronLab PTC (Official Seller) is an excellent script for making PTC websites. It's called CronLab PTC | All in One Script for PTC, HYIP, Crypto Trade, and Money Investment, and it gives you a lot of ways to make money. This Script has some features that can help you serve your clients. For example, Paid to Click (PTC), Pay Per View (PPV), Crypto Currency Investment, HYIP Investment, Any Currency Investment Like USD, Euro, etc., Perfect Membership System, and Cool Referral System. It will be easier than you thought with CronLab PTC | All in One Script for PTC, HYIP, Crypto Trade, and Money Investment System. You can also build and manage your advertising campaigns on popular search engines like Google and Bing with PTCLab. The platform provides several features and tools to assist companies in streamlining their advertising campaigns, monitoring their progress, and making necessary strategic adjustments.
Demo Details Of Official CronLab PTC/Hyip Script.
if you want to test Cron-Lab Script all features then use these following detils for login.
Admin Login Details :
Password : demopw
—————————————-
User Login Details :
Password : demopw
User Panel
Admin Panel
Overview Official Cronlab PTC Script
Official CronLab PTC Latest Version v6 | Script for PTC, Hyip, Crypto Trade, and Money Investment allows you to make money in various ways. This script has many features that will benefit your customers, such as paid-to-click (PTC), pay-per-view (PPV), cryptocurrency investment, HYIP investment, and investment in any currency, including USD, EUR, etc. Excellent membership system; excellent referral system. With CronLab PTC | All in One Script for PTC, HyIP, Crypto Trade, and Money Investment System, it will be simpler than you anticipated. What's more, AllWebScript INC provides free installation and support. You don't need to purchase both scripts to plan an HYIP and a PTC website; you can buy CronLab Script and take advantage of all its features. If you prefer not to purchase from AllWebScript Inc., please do so by clicking here. However, if you order from us, you'll get free support that the cronlab team does not formally offer.
User Dashboard
This is overview of Cron-Lab userdashbord, If you're a admin then you will be get a "Admin Panel" option to go in admin panel. For More information and preview watch the video.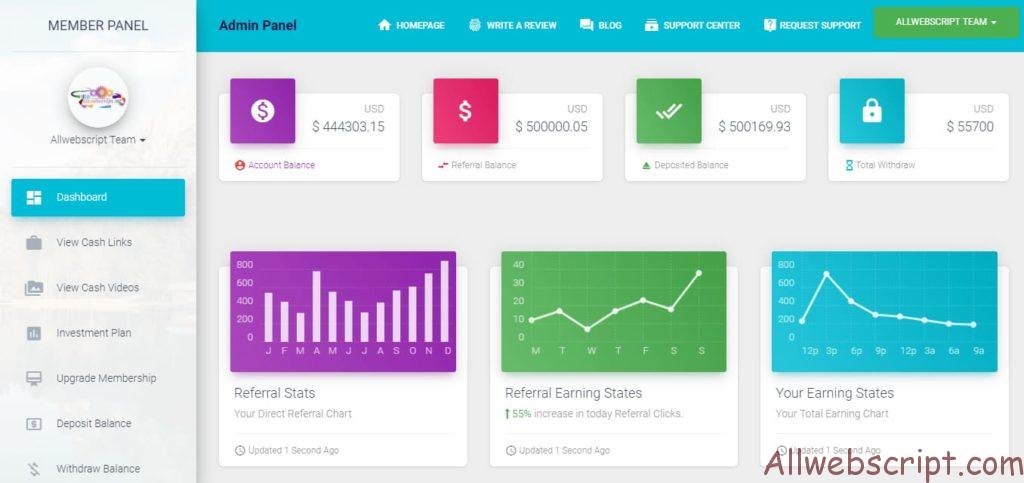 Multipul Balances
There is multipuls payment preview,
1 :-  Account Balance
2 :- Referral Balance
3 :- Deposit Balance

Funds Transfer
User can able to transfer funds or exchange the amount .for example if user amount in their "Account Balance" and they want to exchange in "Earning Balance" . They can able to do that. User can also able to send money to another user.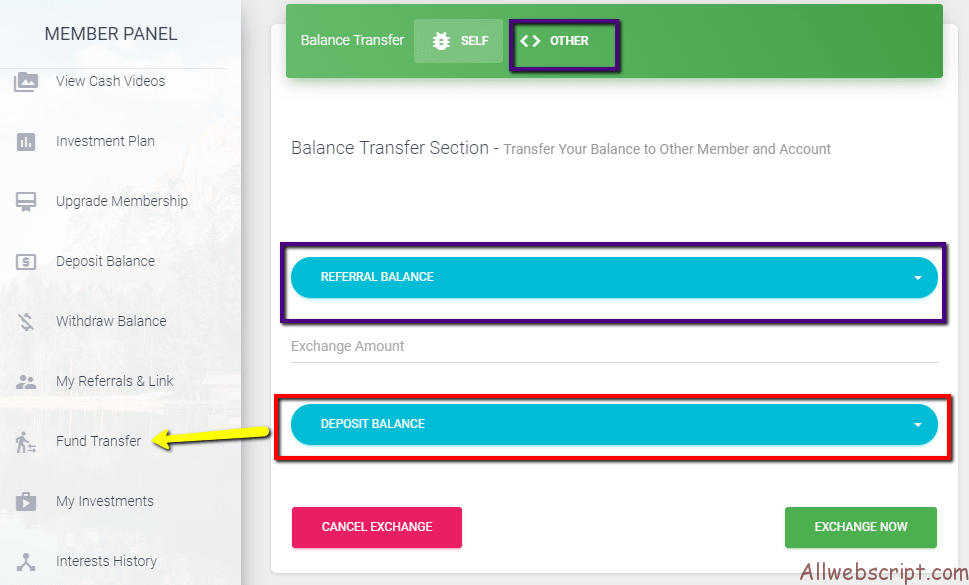 Deposit Fund
User can able to add funds in account through 2 methods.
1 :- Auto (Instant)
2 :- Offline (Manully confirm)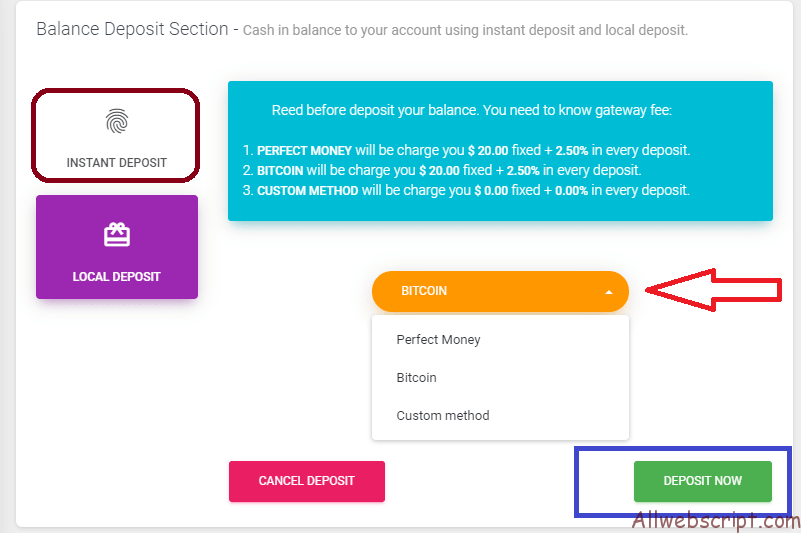 Withdraw Preview :
1 :- Select the Withdraw Method.
2 :- Enter Your Account For withdraw.
3 :- Enter the amount for withdraw.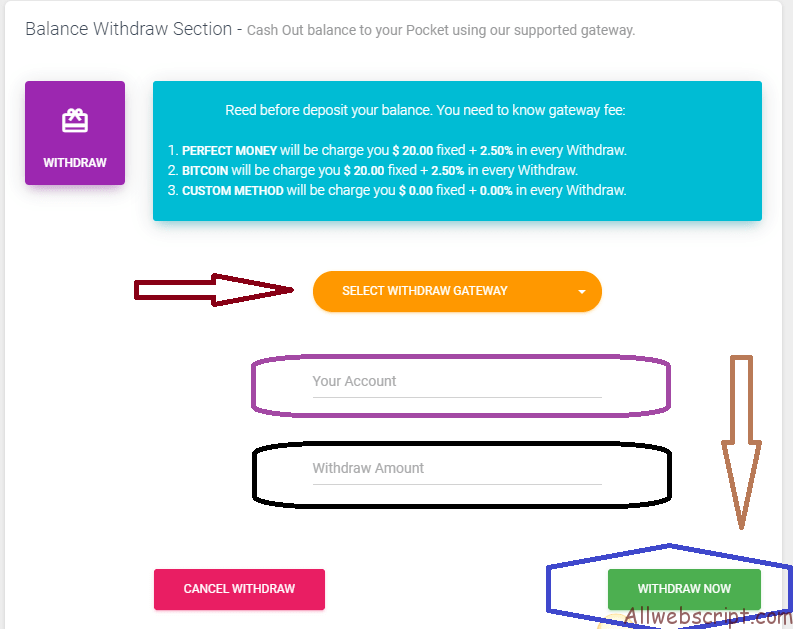 Other features :
Official CronLab PTC Latest Version v6 | Script for PTC, Hyip, Crypto Trade, and Money Investment | AllWebScript has more features.
Main Features For Users
1. Included a timer paid to click "View with Animation Progress" and fix bugs on these highlights.
2. Added Earn Cash by Watching Videos on YouTube. Support Google Adsense Ads on View Page by adding a clock and animation progress.
3. Investors in any cryptocurrency recognized as regular money can profit.
This component may be called HyIp, BitCoin Doubler, Investment, etc.
5. All membership system bugs are resolved, and the system is fully operational.
6. System of Instant Money Deposit
7. Disconnected Money Deposit System; this is referred to as Local Payment.
8. Gigantic update on Referral System. For example, the user sign-up bonus, the sign-up bonus for sharing a referral connection, and the sign-up bonus for signing up via that link. Store Bonus By Referred User Deposit. Acquire Money By Referred User PTC and PPV View, Earn By Referred User Membership Upgrade.
9. Complete bug fixes for the money transfer system. Customers can transfer money between accounts, deposits, referrals, and account balances. Furthermore, email notifications can transfer funds from one member to another.
10. Clients can view information about their investments in money and cryptocurrencies.
11. Clients can now view their investment interest history; some bugs have been fixed, user withdrawal history has been added, and deposit history has been added.
12. When clients click on "Earning History," they can see the paid-to-click users they've referred, the paid-to-view video ads they've seen, membership upgrades, deposit bonuses, and their earnings history.
13. Fixes Some Bug on Profile Page and Email Verify. Include User Identity Verification and Proof of Address Verification as well. You can call it KYC Verify.
14. Compose audit/tributes for the site and submit for affirmed
When a user logs in, opens a support ticket, gets a response from the admin, or sends money to another user, they can automatically get an email about it. Receive cash from other clients, verify KYC, and so on.
Most Wanted Admin Features :
1. Resolves issues with paid-to-click and paid-view ads. Administrator Can Set Time, Set Ads Specific Membership on Paid To Click And Paid To View, ETC.
2. Administrator Can Send Emails to Any client on his site. Likewise Can send any untouchable individuals from Admin Panel. You can send messages without going to Gmail or another website. All emails from the administrator's inbox are visible on the administrator board.
3. The person in charge of the site can see and change all user profiles and any helpful information. Without any difficulty, the administrator can create another client. 
The framework will inform the client how to change their secret word and update their profile information after receiving their email and logging in.
4. A fully featured blog, news, promotion, article, and event system with tags and categories.
5. Completely Featured Investment System. The administrator can create an investment plan with a minimum and maximum investment. You can set an hourly, weekly, or monthly return investment interest percentage that is good for a certain amount of time. Similarly, the number of days the client receives their benefit can be set. These details must be filled in by the administrator. framework will logically fulfill that obligation.
6. Administrators can build a fully functional membership system by specifying a reinstatement date, value, term, etc.
7. The administrator may configure the Instant Payment Gateway's fixed and percentage charges. Dynamic and De-Active Gateway Status.
8. "Completely Featured Local Gateway" means that the administrator can make any payment gateway with fixed and percentage charges and active and inactive gateway status.
9. Completely Featured Deposit System. Administrators can see the most recent Instant Deposit, check the status of a local payment store, and accept or reject payments in installments through the Extortion Store.
Currently, the user can withdraw from the system. Client solicitation recedes, the administrator sends cash, and she then requires total catch. That is it..!
11. Completely Featured User Support Panel. Admin can respond to his client's bolster ticket and view the closed help ticket.
12. Know Your Customer (KYC) is used to confirm the client's identity and address proof. The client submitted their National Identity Card, Passport, Driving License, and Other Documents of Proof of Address; Admin saw that solicitation on the administrator board and acknowledged or dismissed it.
Administrators can choose to publish or not publish user reviews and testimonials, as well as change the privacy policy, terms and conditions page, anti-money laundering page, and KYC policy page. Can also develop FAQs or frequently asked questions.
14. Completely Featured Website Settings System. On the admin panel, the administrator can edit the site name, site title, company name, contact email, system contact email, company address, and contact phone without writing any code.
15. Administrators can toggle any site feature with a single click. Paid To Click (PTC), Paid To View (PPV), Payment Proof Page on the landing page, Latest Deposit and Withdraw data on the landing page, Member to Member Money Transfer, Membership System, and Investment System are just a few examples. This element can be turned off or on at any time from the Admin Panel without using any code.
Some of the content we have copied from CodeCanyon. You are welcome to look at all the information there.
Safe and secure
Safety always comes first. We are prepared for scammers trying to hack our CronLab PTC script. Your customers are fully secured with CronLab PTC. We make every effort to ensure that our customers receive fully secure software that will benefit them instead of the nerves and worries associated with scammers trying to steal their money.
PHP & MySQL based
All you need is hosting that supports PHP and MySQL, which 99% of hosting providers do. We do not require some alien technologies. The CronLab PTC script is 100% open source (front-end and back-end), making it simple for you to make changes. It is not rocket science; our script is made to be customized.
Well Documented
Sick and tired of the scripts with no documentation at all? We provide complete documentation that explains how our CronLab PTC script functions because CronLab PTC is written from scratch, the market's most advanced Get Paid to Click script. Made by people familiar with many PTC scripts and sites.
 Unlimited Payment Systems
All payment system gateways are available, including PayPal, Payza, Neteller, SolidTrustPay, AdvCash, PerfectMoney, Payeer, Skrill, OkPay, and BitCoin. You can start fully manually. You can also add your local payment system.
Customizable Unlimited Membership System
Highly customizable memberships that connect to all site settings allow you to set each Membership's values individually. Add Unlimited Membership in CronLab PTC. Just Give some data, and you are all set. The referral commission is supported by each Membership.
Anti-cheat system
Based on years of experience, we know how cheaters operate. We have systems to catch them and report all suspicious activity on the site. Safety & security is our top priority. Protect against fraud on every possible level.
Built-in News and Blog System
A reliable and flexible news and blog engine is provided by the script. Since it is already connected to the writing, re-registration is not necessary.
Built-in Live Chat & Contact System
Use our built-in ticket system with canned responses included. Allow your users to view the entire ticket history, which is accessible to outside customers as well.
Conclusion
All of them are individual, per our membership system. To find out what other options we have, check out our demo.
 Main Features for Guests:
Fully Responsive Design with Material Design.

Fully Dynamic Style with Informative Front-end.

Login & Registration System.

Access to the Blog, News & Upcoming Event Promotion.

Restricted to Access Earn Money, Comment.

Easy to Contact via Contact Page.
Main Features for Members:
User Dashboard System.

Manage Balance.

Money Investment

Crypto Investment

A2Z Statics.

Referral System.

Withdraw System.

PTC, PPV System.

Deposit System.

And Much More. Please check the demo for Full Details.

Features for Member:
Main Features for Admin:
Manage Pay Per Click.

Manage Member.

Manage Investment

Manage Blog, News, events, and Promotion.

Manage Referral Commission.

Manage Deposit Requests.

Manage Withdraw Request.

Manage Referral System.

Manage Payment Gateway.

Manage Website Settings.

Manage Comments.
CronLab PTC Official
Price: $90
Another fantastic script for building PTC websites, CronLab PTC | All in One Script for PTC, HyIp, Crypto Exchange and Money Investment, allows you to generate income in several ways. This script includes several elements that will benefit your customers. Paid to click (PTC), pay per view (PPV), crypto currency investment, HYIP investment, any currency investment such as dollar, euro, etc., the ideal membership system, and the excellent referral system are some examples. With CronLab PTC | All in One Software for PTC, HyIp, Crypto Trade and Money Investment System, it will be easier than you anticipate.